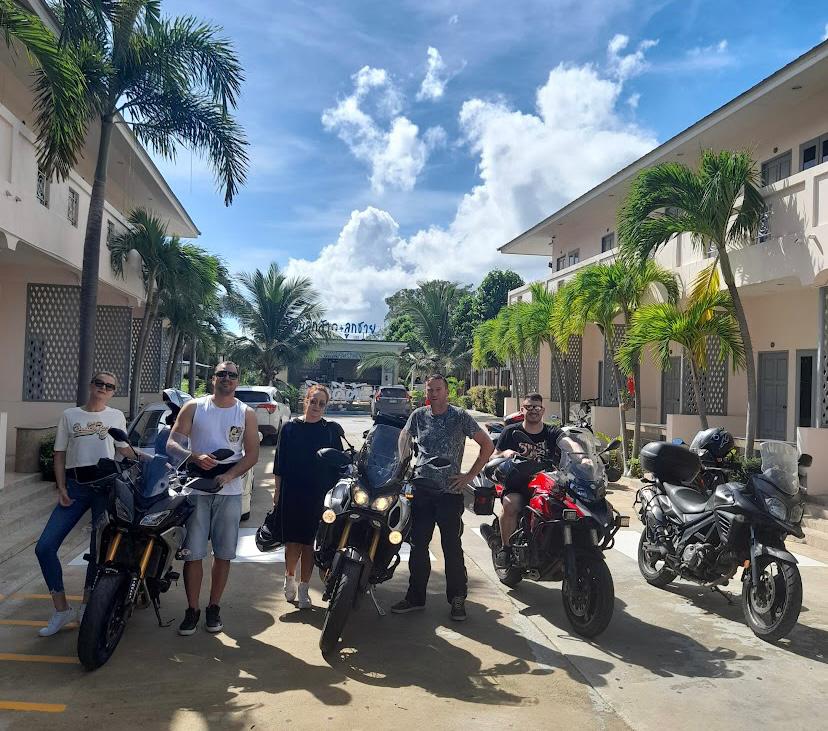 A motorcycle ride in the middle of winter
We were on a motorcycle tour of southern Thailand from Bangkok to Songkhla and back, we traveled three thousand kilometers and visited two of Thailand's largest islands. We saw and fed enough monkeys and elephants for half a lifetime. Visited too many temples and Buddha statues, ate enough shrimp and lobster to for a lifetime. We swam and sunbathed on endlessly long sandy beaches. We went to a Ping-pong show and a lady boy bar. We tried to smoke marijuana, since it has recently been legal in Thailand. All this in the middle of winter, while in Europe there are minuses, we were sweating in summer jackets on motorbikes.
Program:
1. -Bangkok day-Hua Hin congregation at Suvarnabhumi Airport in Bangkok.
You will be picked up by a chauffeur a transport with a mini van to the famous Hua Hin resort.
Accommodation in a hotel ( bungalow ). Time to take a nap. Night market visit, dinner, walk around the city (depending on the time you arrive in Bangkok). Sleep over night.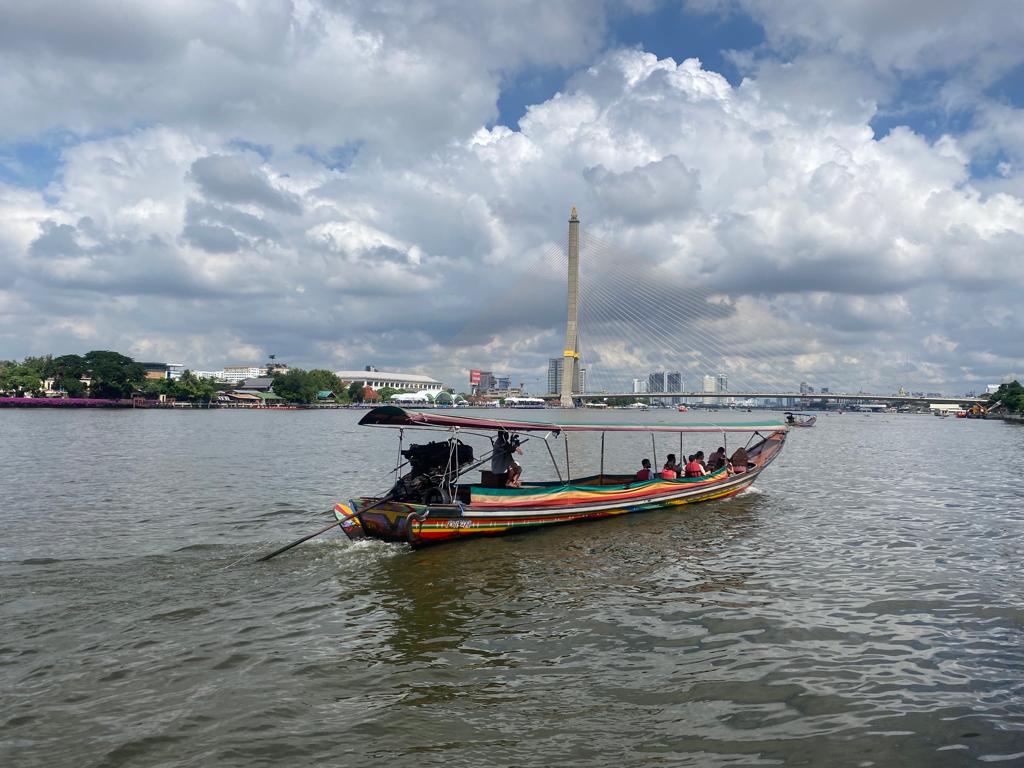 2. -day Hua Hin after breakfast we will take motorcycles
(to rent a motorcycle you need to have an international driver's license and you have to pay 300 eur deposit for motorcycle guarantee, if you don't damage the motorcycle you will get the money back) and drive around the city to get used to it Driving on the left side and into traffic. Lunch time. After lunch we will drive to see some attractions around Hua Hin.
Free for walking, shopping, dinner. Sleep over night.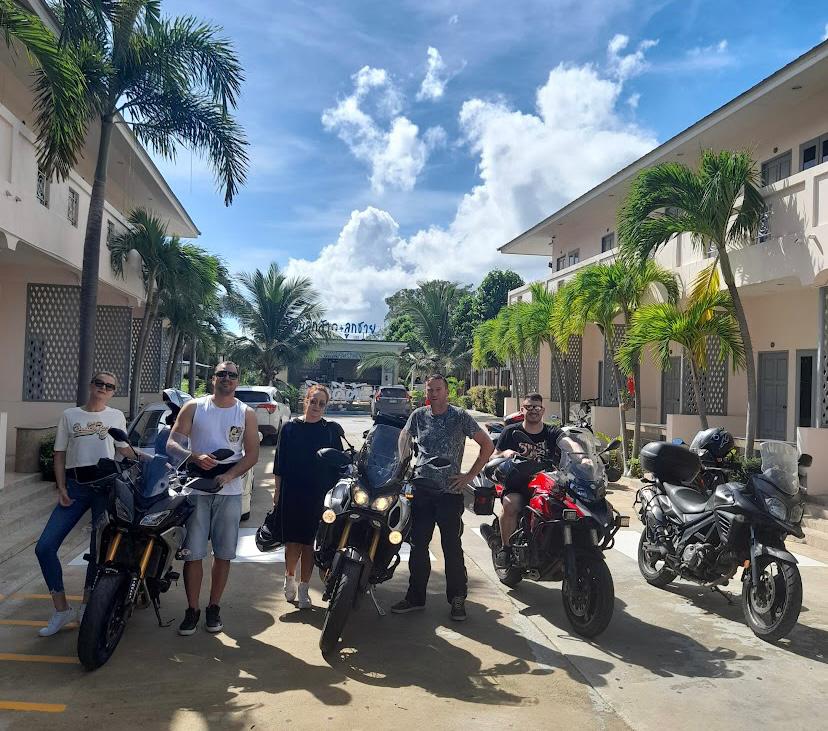 3. -day HUA HIN-CHUMPHON
Checking out hotel and start of our great adventure. We are heading towards CUMPHON (280 Km). The city of Chumphon is also called Door to the south of Thailand. We are going to visit Rajabhakti park. Eat Sam Yot National Park. Masto Prachuap Khiri Khan. Checking out some of the local landmarks. Arrival at Chumphon accommodation at hotel. Off to sightseeing and dinner (free doesn't mean roaming around on your bike but on your own, dog. Once we park our motorcycles in front of the hotel means that the motorcycles are in front of the Hotel until the next day and the city tour is dog or taxi). Sleep over night
4. -day CHUMPHON-PHANG-NGA
Breakfast and early departure from the hotel because we have a long way (350 km) ahead.
The path takes us to the shores of the Andaman sea. We will drive parallel to Burma (Myanmar) border for some time. We're going to drive through 2 National Parks. We will continue our drive to Khao Lak town, visiting the tsunami victims museum. Coconut beach. Staying at the hotel room. Free for a walk, sightseeing and dinner. Sleep over night.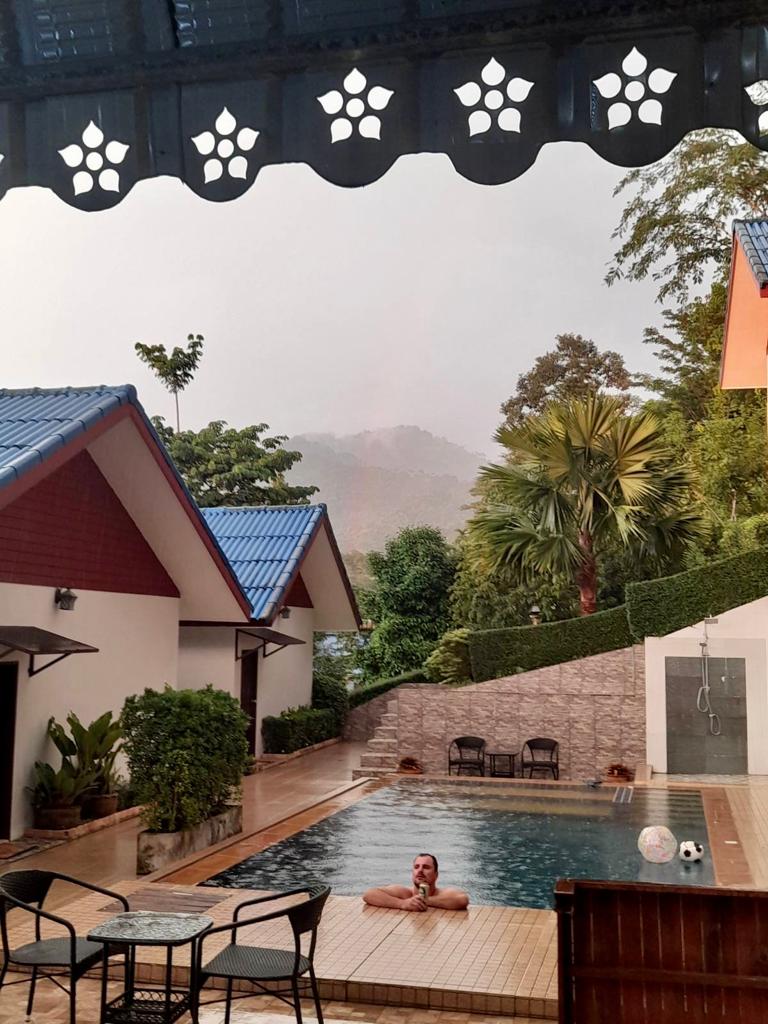 5. -Day6 PHAN- NGA-PHUKET
after breakfast will continue to the not so far destination Phuket. Phuket is Thailand's largest island and most popular tourist destination. So we will take two days to see the island and relax. We are staying in Phuket for two days and two nights. We will take time to swim at the beautiful beaches of "Patong beach". Made a visit to the night market. We partied in some of the most popular Bars and bars in Bangla road as the nightlife in Phuket is very exciting. A total turn off. We are staying at the hotel. Afternoon free to rest because we've already done more than a thousand kilometers. Relaxing, swimming and sunbathing on the beach. Towards the evening you can head to the night market and the crazy night life. After breakfast we will drive again the next morning to see the island. Big Buddha, Phuket marina, feeding elephants, Chalong temple…. or if you decide on a trip. Visiting the Maya Maya Islands, maybe visiting a crocodile farm or snorkeling (none of these included in the package so extra charge)
Tiger farm tour possible upon arrangement and extra fee. The afternoon is free again for swimming and resting. You can use the evening for a party, some shopping or a Thai massage.
7. -PHUKET-KRABI
day breakfast and check out from hotel. Start towards Krabi (180 km). We will drive through two National Parks again. The area is very rich with caves. We are going to visit some too. We are going to visit monkey cave, princess cave. We'll also make a stop at Ao Nang Beach, ideal for a late nice shot. Going to visit Krabi Tiger temple and local landmarks. Staying at the hotel room. You can watch a beautiful sunset on a beautiful beach. Then on an evening walk in the city and Walking street. Dinner time. Sleep over night.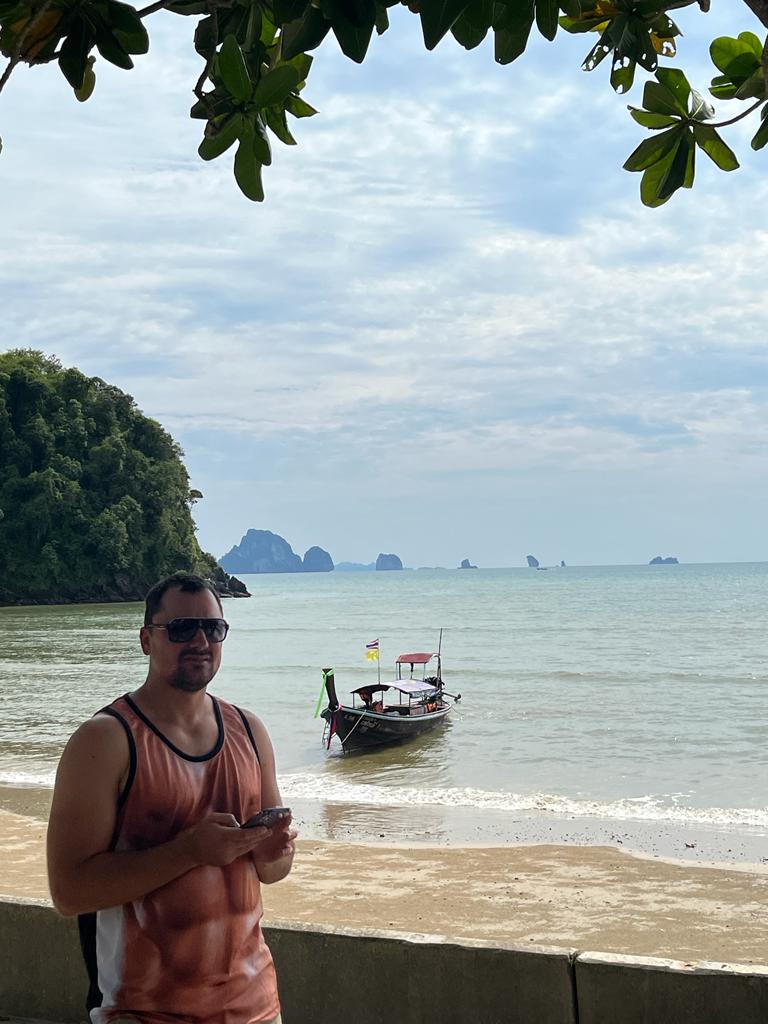 8. -day KRABI-TRANG-PHATTHALUNG
we are off to new adventures and accumulating new kilometers. Along the way we will stop at Trang and see the local landmarks. Continuation of the journey towards Phatthalung. The city is located on the shore of SONGKHLA LAKE which is the largest lake in Thailand. We will visit the beach, hot springs and a few other tourist attractions.. Set up at the hotel . Evening walk in the city, promenade that is full of bars and restaurants. Dinner time. Back to hotel and overnight stay.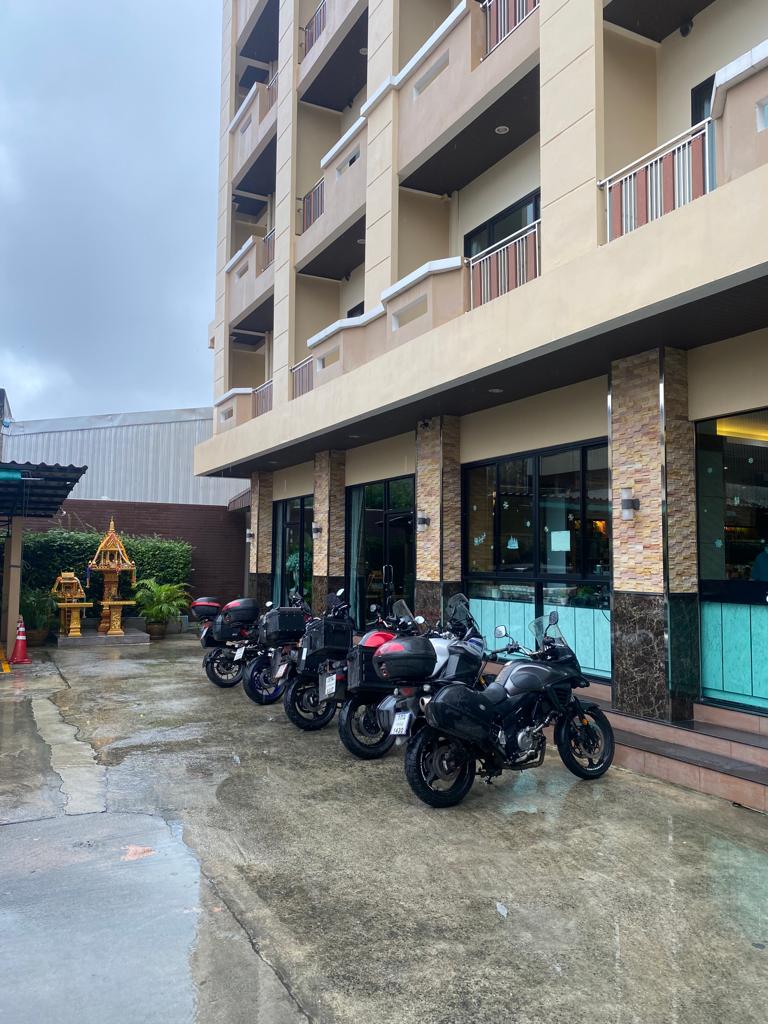 9. -day PHATTHALUNG-HAT YAI-SONGKHLA
moving on to south Thailand. Songkhla city will be our southern destination. For safety reasons, we won't be proceeding any further south. First we are going to Sonkhla city. Going to see the old city center. Landmarks of the city. Samila beach with the statue of the golden water girl and some other city landmarks of which there are countless in the city and its surroundings. Then we will go to Hat Yai and see the city's sights. City park. Maybe a museum. Staying at the hotel room. A visit to the night market. Free for a solo walk and dinner. Sleep over night.
10. -day SONGKHLA-NAKHON SI THAMMARAT
from our southernmost point of the journey and after ten days travel we will start our way back towards north Thailand. We'll drive along the endless sandy beaches of the Gulf of Thailand. Also stopping at one of these beaches for a nap and lunch. Visiting the city and its sights after arriving in town. Accommodation. A walk through the old town core. Visiting the night market where you can get Thai food for dinner or some shopping. Sleep over night.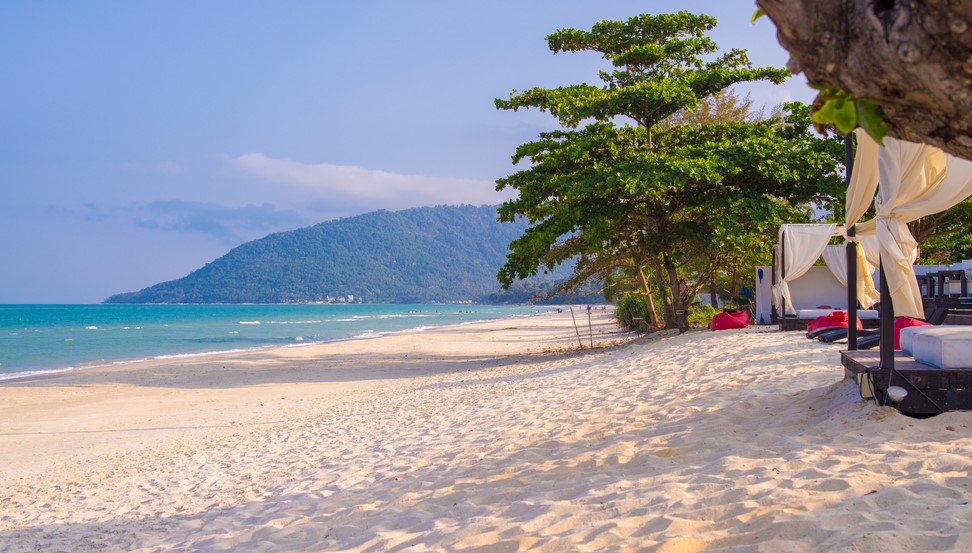 11. -day NAKHON SI THAMMARAT- KOH SAMUI
after breakfast we will make our way to Don Sak port where we will board the ferry and drive off to Ko Samui
The ferry ride is approximately an hour and a half or two hours long.
Ko Samui is the second largest island in Thailand and a very popular tourist destination. Of course we will visit the most interesting attractions here too. Big Buddha, Lamai view point, beach etc. Set up at the hotel . Free in the evening for dinner and a beer. Sleep over night.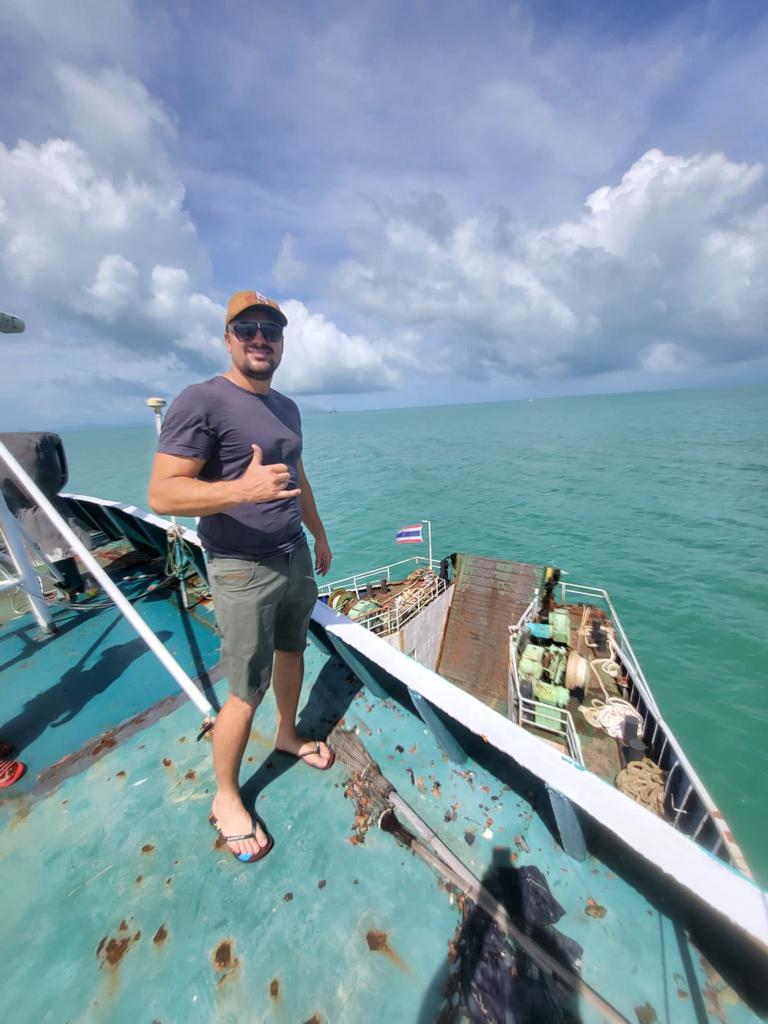 12. -day KOH SAMUI-SURAT THANI
After breakfast will move forward to explore the island. We will make a round trip around the island of approximately 80 kilometers. Then back to the port and ferry back to the mainland.
Every town in Thailand has a night market and so does Surat Thani of course we're going to visit. A good opportunity to have dinner and something new because Thai cuisine is very different and delicious. Hotel accommodation and overnight stay.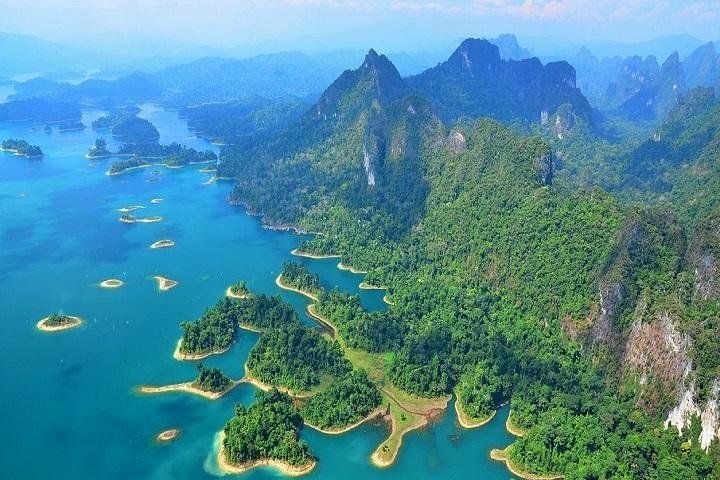 13. -day SURAT THANI-CHUMPHON
going back to north. This time we will be coming to Chumphon from a different direction. We are about 200 kms to Chumhon but with our drive here and there probably will do a lot more. Because we will stop at some interesting locations. Of course we will visit other local landmarks that we didn't when our first visit to this city. Set up at the hotel . Free in the evening for a walk, dinner. Sleep over night.
14. -day CHUMPHON-HUA HIN
breakfast. Return to the scene of the crime. Last 300 and a few kilometers to go. On the way stopping at Prachup Khiri Khan. Visited Kao Lom Muak hill temple which is a monkey sanctuary. Of course we have to be careful so they don't steal something from us. We'll walk the town boardwalk. Return to Hua Hin city. Hotel accommodation. Return of the motorcycles (and the warranty you left for the motorcycle) Free for a walk in the city in the evening. Maybe some shopping, massage or maybe some drinks to celebrate our return and end of our great adventure.
15. -day HUA HIN-BANGKOK
after breakfast will check out from the hotel. we will drive to Bangkok airport with mini van
Some explanations and instructions:
Thai tradition and culture is very diverse so we will visit some temples on the way to learn more about Thai history, culture, tradition and architecture.
The program does not describe all destinations and landmarks we will visit. So let yourself be surprised. As bikers and adventurous tourists, we will stop and visit places that are interesting to us and that we will meet along the way.
Once we park outside the hotel, motorcycles are no longer allowed. Motorcycles are intended exclusively for moto tour purposes and not for solo use and driving anywhere. Transport to the city or restaurant by taxi comes 50/60 cents per person when we split the cost, and that's a lot cheaper than if something happens.
Any changes in the program or if the participant does not travel according to the program, it is considered that the passenger has waived the travel contract and has to pay all other expenses and damages himself.
There is no need for us to stick to the program 100%. with agreement we can leave something out and add something else.
As motorcyclists, you have to be aware that lunch and dinner can't be every day at a certain time because we're on the road. So we will eat when we get the chance.
We'll be stopping and taking breaks every 80-100 kilometers or every hour.
It is desirable that you wear sneakers because we have to walk to some attractions. Otherwise, a little walk will be nice after a long time of sitting on the motorcycle.
Light polenta clothing is desirable because at the moment in Thailand the temperatures are +30 and more. You don't need a lot of personal things because you are limited to the size of the motorcycle suitcase. I suggest you take the backpacks.
I also suggest that you get some kind of accident insurance during the trip.
I would also warn that everyone is responsible for themselves so the way of driving must be adjusted. In Thailand, the bigger is always a rule. Considering that we will be driving more than 3000 km, caution is not superfluous.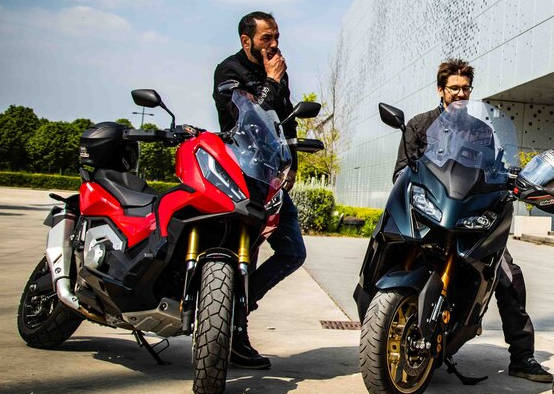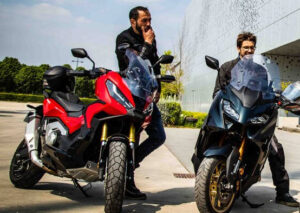 Yamaha T max 560 and the Honda X adv 750.