Bmw R1250GS Adventure Vs Ducati Multistrada V4S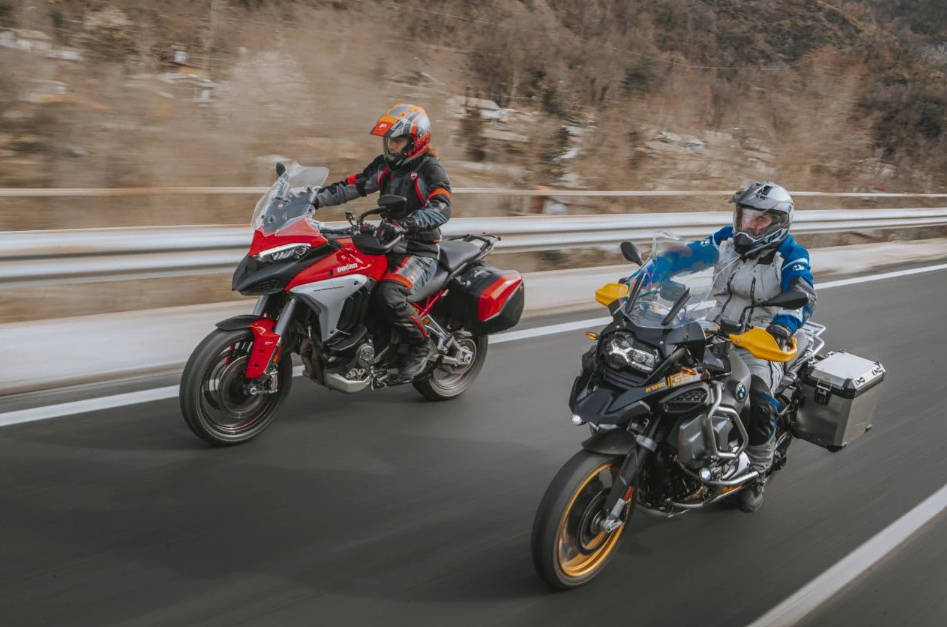 Bmw R1250GS Adventure Vs Ducati Multistrada V4S – Who is the boss?
BMW and DUCATI are two very popular manufacturers of motorbikes. The latest editions of their bestsellers, R1250GS Adventure and Multistrada V4S respectively, seem to be exact competitors on paper. There is a lot at stake for both companies as BMW tries to keep their leadership in the worldwide adventure motorcycle market and Ducati tries to take over the niche with the launch of new Multistrada.
The biggest difference between them is that R1250GS Adventure is a classic long-distance touring bike while Multistrada V4S is a sporty, high-performance bike that also happens to be suitable for long journeys.
BMW R1250GS Adventure Vs Ducati Multistrada V4S in detail
R1250GS Adventure continues in the tradition of being a real Jack-of-all-trades. It is not the most comfortable bike, nor the sportiest one but it is definitely a very good choice for everyone who needs a do-it-all motorcycle. The basic model costs $16,000 while the fully equipped model with top drawer options reaches $22,500 which is still pretty decent considering what you get out of it!
The R1250GS Adventure is powered by a 1,250 cc two-cylinder engine that delivers 136 horsepower which makes it very capable of tackling steep inclines and overcoming strong headwinds. It has the lowest center of gravity out of all BMW motorcycles and therefore behaves impeccably in terms of stability and predictable handling even over rocky terrain. The weight is also well-distributed because the fuel tank is positioned low which prevents it from feeling too heavy or cumbersome.
The R1250GS Adventure is not a racing bike by any means but it definitely has enough power to go faster than average city traffic on multi-lane roads.
Ducati Multistrada V4
DUCATI Multistrada V4S is a very good alternative to BMW R1250GS Adventure. In fact, it looks more sporty and aggressive than any other Multistrada which has been already redesigned four times since its initial presentation back in 2004.
The bottom line is that the Multistrada V4S costs more than a basic R1250GS Adventure but it will be easier to ride as well as faster on roads without too much traffic. You do miss out some of those great features that BMW has packed into their bike, but what you get instead is a more exciting and fun ride.
The Multistrada V4S is a masterpiece in terms of design, technology and performance. It offers a lot of gadgets that go well beyond all-day riding comfort in order to provide adrenaline-pumping experience behind the handlebars. Ducati have managed to put everything they learned from their MotoGP experience into this bike and we can see that from the way it looks and handles.
The Multistrada V4S is powered by a 1,262 cc V-four engine which delivers 160 horsepower at 9,500 rpm while maximum torque goes up to 126 Nm at 7,750 rpm. This allows the rider to accelerate as quickly as he wishes and with as much force as his or her right leg can manage. The Multistrada V4S is a very versatile motorcycle that manages to remain calm and composed even when you push it hard on twisty roads.
The choice between BMW R1250GS Adventure and Ducati Multistrada V4S is not clear-cut because both of these motorcycles are amazing in their own way. You will have to choose between BMW's traditional touring bike that offers relaxed long distance rides and Ducati's sporty adventure motorcycle which makes you excited about every single turn on the road.
What should you consider before you rent a motorcycle in Croatia? The first step is to research your options and find a reputable company that offers motorcycle rentals in Croatia. Make sure to read reviews and compare prices before you make your final decision. When you're ready to rent a motorcycle in Croatia, there are