One day motorcycle tour tips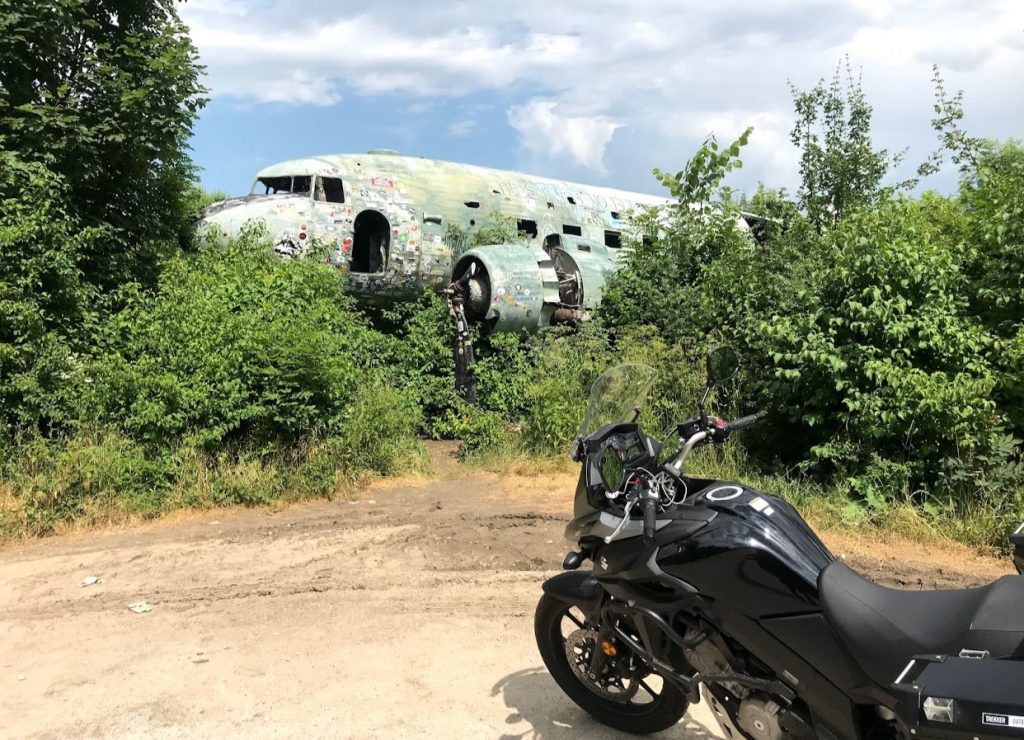 Split surroundings
Although Croatian Adriatic coast is very famous among sailors it is not less interesting for bikers too. In another words, roads along the sea and in the hills are heaven for bikers. Aside from numerous beaches, clubs, taverns and bars Dalmatian coastal roads can take you to great, small motorcycle friendly towns and villages where you will get along with local people and their laid back way of life. Therefore we have created one-day motorcycle tour around Split background. Above all, this route is ideal for those who look for leisure and adventure at the same time. Not to forget great cuisine. For instance, 100 – 130 miles trip from Split via Sinj, Imotski, Cetina river canyon and Gata back to Split offers perfect combination of leisure, culture, nature, adventure and traditional food. All what you need is a good motorcycle and, maybe, a good pillion, helmets and great spirit. During this trip do not miss to visit Alka museum in Sinj, Red and Blue lakes in Imotski, try special local dish "soparnik" in Gata. Whether you like to swim in the sea or in river, you can stop along and dive into Cetina river or feel the salty adriatic at beautiful sandy beach in Omiš.
Split Blidinje Mostar Split
One day, two states, three cultures and many beautiful places, towns, villages. Not only an extraordinary riding experience, but also cultural gem that will leave your spirit richer. Despite recent war bosnia and Herzegovina now lives in peace where 3 nations with 3 different religions try to build common future. After choosing your motorcycle and riding gear at Desmo office start your trip towards wild but beautiful national park Blidinje. Compared to Adriatic coast, theese roads are less crowded, but still very atractive. With this in your mind let the roads take you to Bosnia and Herzegovina. Prior to crossing to B&H make sure to stop and visit Imotski town with beautiful Red and Blue must see lakes. After that prepare your passport and cross the border on your way to Blidinje national park. Moutain roads. Without the doubt, every rider will adore riding the roads in this national park together with mountain summits on one side and lake on the other side you wil see traditional homes where people still live. Following theese roats you will get to famous Hajducke vrleti hotel with one of best restaurants in the region. Finally you can taste their traditional dishes, fresh grilled meat, tasty cheeses, fruits, cakes and mountain honey. Soon after Blidinje the road will tak you to Mostar, city on Neretva river. While Muslims and Catholics live on opposing sides of the city the Old bridge connects not only two sides of the city, but also two cultures and nations. After all, take a safe ride back to Split and relax after a long day on the motorcycle
A little story about our ride & sail tour
Why is our ride &sail tour one of most popular tours? Almost every rider will tell you that the pure sense of freedom while riding the motorbike is one of the strongest motivation factors that pushes them to ride more and further. Basicaly, the amount of petrol in your tank is the only limit while cruising the curvy roads. Guess what, almost same is what sailors think and feel about sailing. Moreover, they do not even need the petrol! Almost! Therefore, it is the riders share same spirit with sailors, or the other way around, only thing that differs them is if they have wheels under or sails above them. Instead of thinking which of these two things is better, more atractive, try to imagine how would it be to do both, together.
The combination of riding and sailing can realy be the perfect vacation for all, hard core riders as well as for tourist riders, big groups or couples, young and old… Realy, for all! How it works? Whether you take one week tour or two weeks tour, the basic principal is the same: you emabark in one place, sail up or down the Adriatic coast, disembark in another place where your bike waits for you and you ride back to the starting point. You choose what to do first, riding or sailing part.
Sailing trip
With it's crystal clear sea, numerous islands, pictoresqe towns, hidden coves and beaches, party places and historycal ports Adriatic sea is perfect for sailing holidays. In the other words, it's combination of culture and adventure offers all what you need for a perfect sailing vacation. While hopping from island to island, from port to port you can choose whether to enjoy traditional food and great local wines, to moore your yacht in colorful ports or anchor in lonely quiet coves. Party in Hvar, swimming in turqoise water of Golden horn beach, choosing finest fish in gourmet heaven Vis, walking around Korcula town walls, tasting Croatia's best red wine in Peljesac or just sailing with the wind… In any case, you will find something for yourself. Above all, you do not need to worry about anything, just relax and enjoy and let your skipper take you to the places to remember for the whole life.
Basic info: minimum 4 guests, yachts with double bed cabins, experienced skippers,
Road trip
After enjoying sailing and life at sea, on the last day of sailing part of the trip your yacht will moore right next to your bike where Desmo team will deliver them for you. So, all you need to do is to step from the yacht to the land and bestride your bike. No matter what you choose, guided or self guided road trip Desmo team will provide all the information you need to visit and see the best on the land. As Croatian coast and Bosnian & Herzegovina are crosslinked with so many roads they are real paradise for riders. The southern tour will take you to wild mountains of Biokovo Cvrsnica and Vran, historical towns Dubrovnik, Ston, Mostar while northern tour takes you to Krka and Plitvice national parks, valleys of Lika and hills and mountains of Dalmatinska zagora. Coupled with beautifull nature, fantastic traditional food in very affordable taverns in villages will make your road trip unforgetable experience. Where ever you stop you will meet friendly local people, find out more about their way of life and history of the places you ride through and you will see that the hard times that they had in past did not destroy their spirit. At last, when the road takes you back to the point where you started your trip Desmo team will show you the best of their town Split and let you talk about your trip with glass of wine or a cold beer in your hand.
Top 5 historycal towns for bikers to visit in Dalmatia
1. Dubrovnik – Dubrovnik is considered by many to be one of the most beautiful and most popular towns in the Mediterranean. It has been living and existing through its history in all these centuries up to the present days Enclosed in its famous, almost two kilometer long walls that are excellently preserved to this day. Unique harmony of old city's medieval architecture, cultural and historycal heritage coupled with vibrant and colorful bars and restaurants, beautiful and clean sea with Elaphiti archipelago and romantic Lokrum island, fantastic places along Dubrovnik riviera makes it one of the best places to visit on the Adriatic coast. The curvy roads in dubrovnik surroundings will take you to Srđ hill above the old city, Konavle village, Cavtat town or Molunat. Many taverns along the road will atract you with fresh lcal food and wine.
2. Ston – Not far from Dubrovnik there is Beautiful Ston. Even though Ston is a small town it offers so much to see, experience and taste. Lets start with Ston wall, monumental defensive system, the largest fortification and urban achievements in Europe at the time. They were built in 1333 when Ston became a part of the Republic of Dubrovnik. The saltworks of Ston, another monument of nature and people of this area. Salt. White gold! In the Middle Ages it was not only a mean of payment, but also a cause for wars and for establishing important trade routes. Oysters from Mali Ston bay, high end of oyster farming, heaven for every gourmand. Undoubtedly, the Plavac Mali red wine from famous Dingac wine hills is best to couple with fresh oysters in one of fantastic Mali Ston restaurants.
3. Mostar – its diversity makes it so unique. The old town of Mostar is known for it's colorful and vibrant little aleys. Surely, the pearl of Mostar is it's unique old bridge that connects two sides of old town divided by river. Further more, it does not connect only two coasts of one river, it connects two cultures, two nations two different worlds. Undeniably unique town with unique people. Riding the bike along Neretva river from Croatian coast to Mostar town is an experience of it's own.
4. Sibenik – one of Croatia's oldest cities with impressive defensive fortification architecture. Four spectacular fortresses, some of them recently renewed, beautifull St Anthony chanel, numerous alleys with great small restaurants with simple but fantastic dishes… that is Sibenik.
5. Nin – this little town has a special place in croatian history, as well as in Croatian tourism. We cannot decide what is more beautiful, the roads that take you to Nin or the town itself. However, you will enjoy both. The town is situated on a small island in the middle of shallow lagoon. When you visit this oldest Croatian royal town you will feel like traveling back to the past. As people from Nin like to say, Nin has thousand of stories. Be the part of the story and history. On the other hand, spectacular sandy beaches around the town will be perfect place to relax on a warm day after a long ride.
Tips for visiting Croatian islands by motorbike
Croatia has more than thousand islands on the Adriatic sea, 66 of them are inhabited, more than 20 of them reachable by bike. Due to that, one of best things you can do is visitin one of those islands and enjoy swimming in crystal clear sea, beautiful beaches, fantastic sea food and, on some islands, fantastic night life. Some of the islands are connected to the mainland by bridge – Ciovo, Murter, Vir, Pag, Krk – and the other by ferry. If you choose to take a ride around one or more of the islands islands reachable by ferry it is recommended to plan a trip in advance, especially in high season (July, August) regardless whether you want to stay one or more days.
Ferry
Ferries mantain good and safe connections to the islands whole year long, but in high season the departures are more frequent, in some cases like Brac and Hvar they go non – stop. For some connections it is possible to buy a ticket online. Jadrolinija, Croatian national shipping liner company, mantains most of ferry connections to the islands and the tickets for their ferries can be obtained online (www.jadrolinija.hr). Ticket is required for bike and for every passanger. Eventhough motorbikes almost always get the place on the ferry it is recommended to buy the ticket in advance during high season due to high demand and large number of vehicles that travel to islands. Unlike Jadrolinija, some other shipping liner companies do not provide online tickets. However, if you decide not to get the ticket online, but to buy it in the port we advice to have cash with you cose in some places (Brestova – ferry to Cres, Žigljen – ferry from Pag) cards are not accepted, cash only. Some islands have only one connection with the mainland per day. For example Lastovo.
In a case of severe weather conditions some ferry lines can be canceled so it is recommended to be up to date with weather.
Desmo adventure is happy to help with getting tickets and information you need
Technical support
There are no authorised motorcycle workshops on Croatian islands. In case of technical malfunction, colision or other similar isue you will need to come back to mainland for any serious works on your bike. That being said, if you need to fix something on your bike it is recommended to do it while on mainland
Fuel supply
In general, Croatian islands do have petrol stations, but on many of them there is just one on whole island and you do not want to depend on this single one. Furthermore, working hours can be realy unusual and short so even when you get ther you can find it closed. Besides, quality of petrol on the petrol stations on the islands can be poor due to old facilities. Fill your tank while on main land
Accommodation
There is a great selection of different kinds of accommodation on every island such as private accommodation, hotels, camps. In high season it may be difficult to find a place to stay in the towns, but within several minute bike ride from any town you will find a decent room. Even more, since bikers are very flexible with transport we recommend accommodation out of towns due to better prices, better value for money.
Local authorities
This mostly reffers to the police controls and parking spots. Police patrols are present at almost every ferry arrival so there is posibillity of pulling you over for the control. That is why we recommend not to consume alcohol while on the ferry and to wear a helmet before you leave the ferry. Local governments in island towns are very strict with parking due to lack of space, so leaving the motorbikes on explicitly marked spots is strongly recommended.
Cash or credit card
Most of the bars and restaurants accept cash only, especially those in more secluded places. Since such places are very often preffered by bikers we recommend to have enough cash to avoid unpleasent situations
Roads
Most of the roads on the islands are poorly mantained and designated. Those are curvy roads with less traffic, less vehicles and less people. That makes them very atractive to bikers, but, at the same time, it requires more caution. Drive safely and slowly
Top 7 islands to visit by motorbike:
1. Korcula
2. Pag
3. Dugi otok
4. Hvar
5. Mljet
6. Cres
7. Brać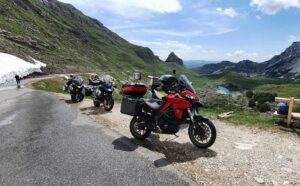 Tour Name: Croatian, Bosnian & Herzegovinian, Montenegro wilderness 2023 Guided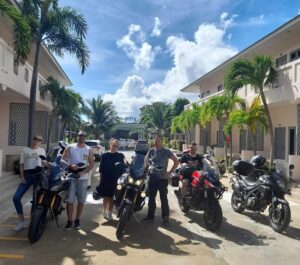 A motorcycle ride in the middle of winter We were
Ducati Panigale V2 may have caused more doubt than Ducati's